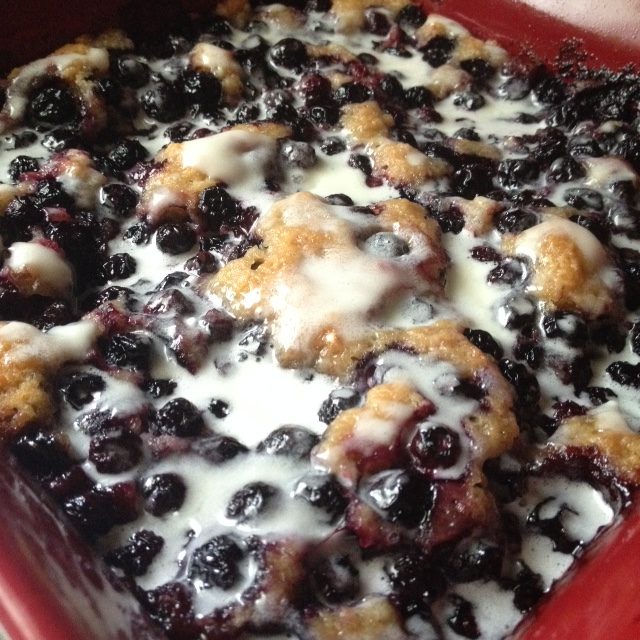 Quick, easy recipes are a must, and this fruit cobbler is just that! We went to a flea market and my husband found two boxes of old cookbooks. I was so excited because some of them are actually hand written books from many years ago. I don't know how people get rid of stuff like that, but I'm glad they do because I get to buy it! Grandma's Easy Fruit Cobbler was written down in one of the books, and you can see that this is a basic cobbler recipe. She noted that this could be made with any fruit so I choose blueberries, but you can use whatever you have on hand. I also added a glaze to mine, however you can leave it off and serve it plain, or even put it in a bowl and add some milk. These are my favorite types of recipes; you take pantry ingredients and turn them into a delicious, buttery fruit cobbler in a matter of minutes.
Grandma's Easy Fruit Cobbler
2017-08-12 06:48:35
cobbler
1/2 C butter
1 C flour
3/4 C brown sugar
1 tsp. baking powder
3/4 C cream or 1/2 C milk
2 C blueberries (or your favorite fruit)
1/4 C sugar
glaze
1/4 C powdered sugar
1-2 Tbsp. cream
Instructions
Preheat oven to 350 degrees.
Melt butter in an 8 x 8" pan; set aside.
Combine flour, brown sugar, and baking powder; mix well.
Stir in cream (or milk) and mix until combined.
Pour into pan; on top of the melted butter.
Spread blueberries on top.
Sprinkle sugar on top.
Bake for 20-25 minutes.
Remove from oven and set aside.
Mix powdered sugar and 1 Tbsp. cream together; if you'd like the glaze thinner, add the other tablespoon.
Pour over warm cobbler.
Serve and enjoy!
Flour Me With Love http://flourmewithlove.com/