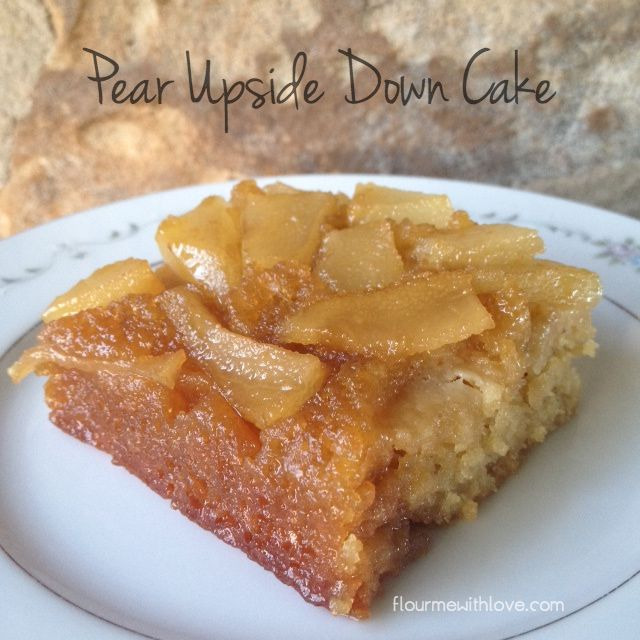 I went to the store the other day and they were literally giving bags of pears away for free! I was happy to get them and couldn't wait to bake something. This Pear Upside Down Cake has an amazing caramel glaze that soaks into the cake and seeps into the pears as well. Then once it's baked, the outside edge is a little harder then the rest of the cake, and those are the pieces everyone fights over. I decided to cut up my pears because I have kids, however you can leave them in long slices and it would make a beautiful presentation. Either way, you're going to love this cake! It's a simple cake that uses pantry ingredients, and it's an easy recipe to follow. If you don't have pears, you could use peaches or apples and it will still taste delicious…enjoy!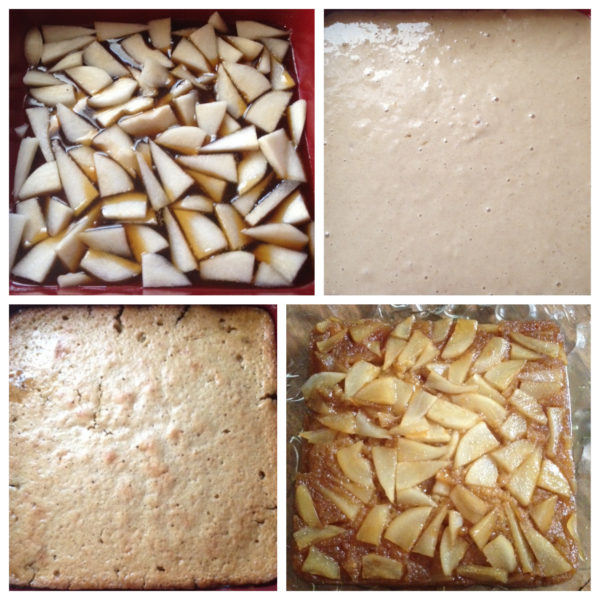 Pear Upside Down Cake
2018-01-26 15:51:15
glaze
1/2 C butter
1 C brown sugar
2 pears, peeled & cut
cake
1 1/4 C all-purpose flour
3/4 C brown sugar
1 1/2 tsp. baking powder
1/4 tsp. salt
3/4 C milk
1/3 C applesauce
1 egg
1 tsp. vanilla
Instructions
Preheat oven to 350 degrees; grease an 8 x 8 inch baking dish.
In a microwavable safe bowl, place the butter and brown sugar. Heat for a minute on high, stir, heat an additional minute.
Remove from the microwave, stir again, and pour into prepared pan.
Place the cut pears into the syrup; set aside.
In a large bowl, mix the flour, brown sugar, baking powder and salt.
Add the milk, applesauce, egg, and vanilla; stir until combined.
Pour over the pear mixture.
Place on a baking sheet (just in case it spills) and place in the oven.
Bake for 40-45 minutes.
Remove from oven and allow to set for about a minute.
Place a large plate over the dish, and carefully flip the cake onto the plate.*
Allow to cool then slice, serve and enjoy!
Notes
*The glaze is very hot so please be extremely careful inverting the cake.
Flour Me With Love http://flourmewithlove.com/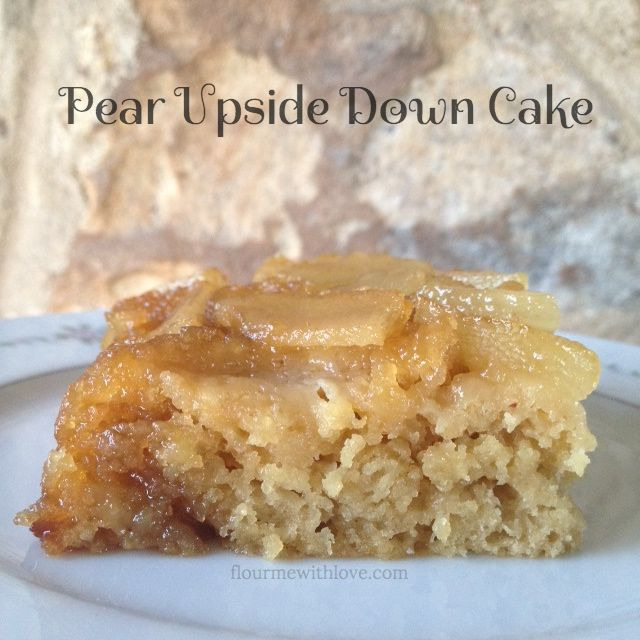 Don't forget to snap a picture when you bake it, and tag @flourmewithlove or #flourmewithlove so we can see!