If we were honest, we would all admit that we could eat a little healthier from time to time. Yes, we all love cheese, cakes, and treats. But, we also know that our expanding waistlines aren't happening by themselves. So, after big binge sessions, we often feel the craving for slightly more nutritious foods. But, those cravings usually come to an abrupt halt as we try to decode the more complicated healthy eating recipes out there. If you need a translator just to understand the basics, why bother?
In truth, though, healthy cooking is much easier than we often convince ourselves. In fact, often, it's easier than unhealthy alternatives. It requires less ingredients, fewer flavorings, and usually less time, too. To prove the point we've got a basic stir-fry recipe for you. When it comes to healthy eating, it doesn't get much easier than this. And, this is a staple which is easy enough to turn to when you feel the need for something fresh. The best part about stir-fry is how adaptable it is. But, here's a basic recipe, and some alterations you could make along the way.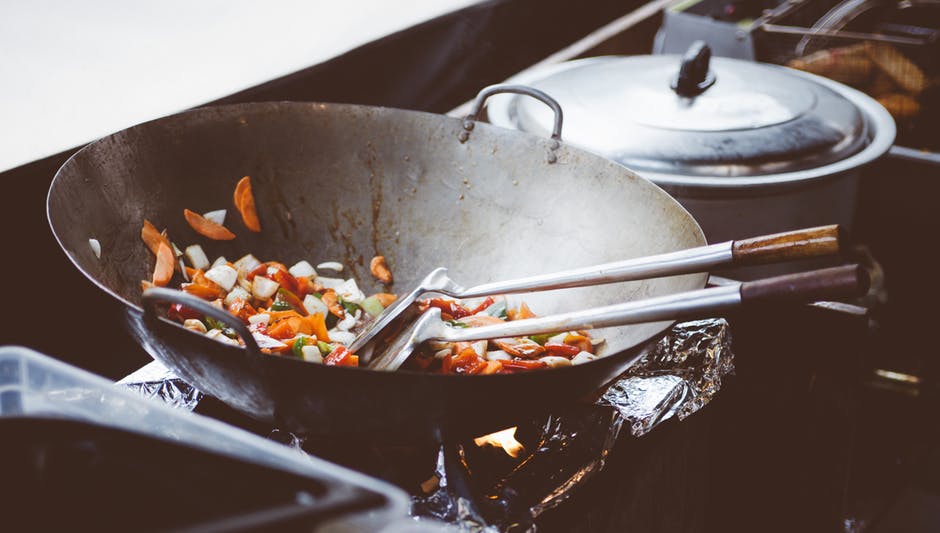 Method
Chop the onion and fry in a wok or deep saucepan along with one teaspoon of oil. A wok would be a good option here as they're deep and would make your life easier. That said, a deep frying pan like those found on this list of the healthiest cookware of 2018 would also work well, and keep that healthy theme going. Leave your onion to fry for three-four minutes, or until translucent.
Chop all the other vegetables and add them to pan once your onion is ready. Add four tablespoons of water, and place a lid over the pan. Continue to fry until your veg softens, stirring at brief intervals to avoid sticking. If you feel it necessary, add more water during the cooking process.
If you're using meat, chop it into chunks and fry it in a separate pan. Keep frying until it cooks through, then set the pan aside.
In the meantime, boil a pan of water for your noodles.
As everything cooks, turn your attention to making your sauce. More than anything, this is a matter of personal taste. Soy sauce generally always features in a stir-fry sauce, as do spices such as five spice and ginger. You may also wish to incorporate sesame seeds or chili flakes. Using these ingredients as a base, create a sauce to suit your palate. It's important to taste after each addition. These are intense flavors, so it's better to add too little than too much. Bear in mind, also, that you may need up to half a cup of soy sauce to ensure you can cover your stir-fry. Mix two tablespoons of cornstarch with water, and add to sauce gradually until you reach a thickness you're happy with.
Return to your vegetables. If they are soft enough to eat, pour your sauce on top, and include your meat. Continue cooking on a slow heat for five more minutes, allowing flavors to marinate. Make sure to add salt and pepper according to taste at this stage.
In the meantime, place your noodles in the boiling water, and boil the kettle for draining. Noodles cook fast, and shouldn't need any more than 5 minutes in the water. From around three minutes, taste regularly. Drain with hot water when you think they're ready, and ladle onto a plate.
Take your stir-fry off the heat, and do one last taste test. Then, spoon on top of your noodles. You may want to mix your noodles with the sauce or leave your stir-fry sitting on top. We said this was all about personal taste, didn't we? Judge which works best for you.
Sprinkle sesame seeds on top, and serve.
And, there you have it. It's as simple as that. Once you're comfortable with the basic recipe, you can play around even more. Pork stir fry with honey glaze is always a winner, as is a beef-based alternative. Never again will you have the excuse of not understanding healthy food. Even better, this meal rarely takes longer than twenty minutes. You couldn't even cook anything in the oven that fast. So go on; give your body a little loving!
This is a contributed post by Olivia Scott; for more information please visit this page.