The holidays are fast approaching, and I love to plan as much as possible. I always make a nice breakfast in the morning, and I like to have that menu planned ahead of time. It makes breakfast less stressful, and I'm not scrounging around at the last minute trying to get something on the table while everyone else is enjoying the holiday. Sometimes I make casseroles the night before and stick them in the fridge, or I'll whip up some good old fashioned pancakes. No matter what I make, I always use ingredients like Pete and Gerry's Organic Eggs.
Pete and Gerry's Organic Eggs has been in business for generations, sourcing eggs from small family farms, and they became they country's first Certified Humane Free Range egg producer. All the eggs are produced without antibiotics, hormones, pesticides, GMOs or animal byproducts.
Look at the difference between the eggs: on the left is a grade A large egg and on the right is a large Pete and Gerry's Organic Egg. Not only are they different in size, the color of the yolks are too. These eggs are the best tasting and safest to eat. I love that they come from farms, and not a factory! The hens have a safe, comfortable place to live a happy, healthy life with access to grass, dirt, and the space for them to engage in natural behaviors. When you buy these eggs, you'll know that you're getting a good quality product every time.
Would you like to try some Pete and Gerry's Organic eggs?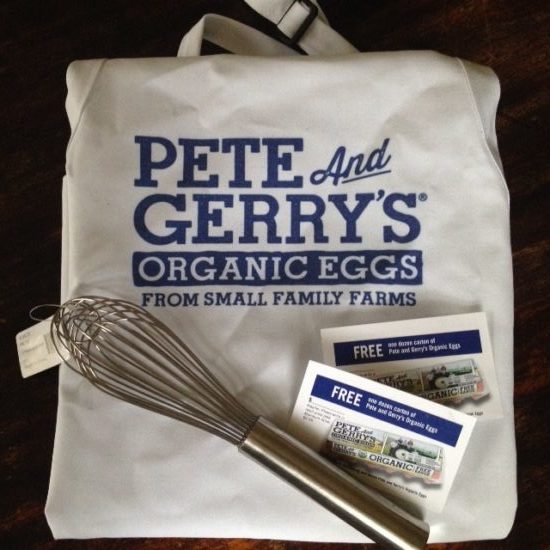 I'm giving away two coupons for free eggs, an apron and a whisk.
Enter the giveaway below…
This post is brought to you by Make Ahead Meals for Busy Moms and Flour Me With Love; sponsored by Pete and Gerry's.