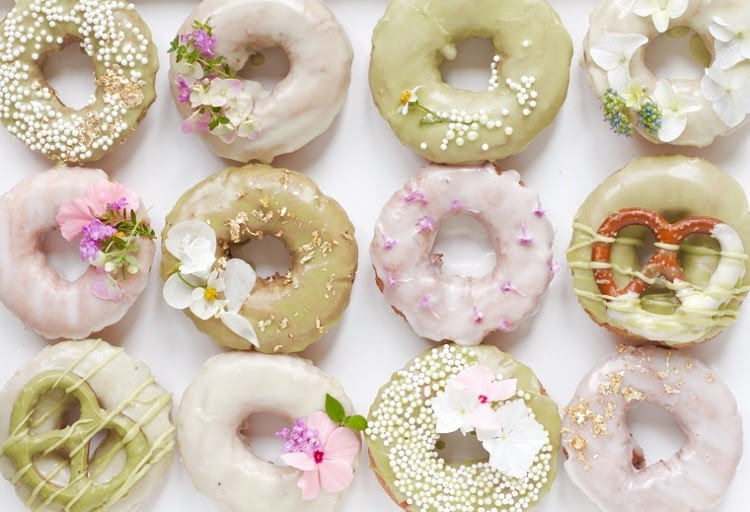 Donuts are always a treat, but when they have Matcha icing on top, they're an extra special treat! Have you tried Matcha? If not, it's green tea leaves that are finely ground into a powder. I love Matcha and it's very good for you. It has more antioxidants than regular green tea, it's rich in fiber, vitamin C, selenium, chromium, zinc, and magnesium. It also boosts your metabolism, helps your cholesterol and blood sugar as well. I buy matcha tea bags at my local grocery store, however just make sure it's 100% so you're getting all the benefits from drinking it. When I saw this recipe for Matcha icing I was excited to try it being that I love Matcha so much. I like how it gives a healthy twist to a not so healthy donut!
Easy Fancy Matcha Donuts
2017-11-03 19:24:22
Ingredients
12 store bought plain cake donuts
3 cups confectioners' sugar
1/2 cup milk
1 teaspoon vanilla extract
Matcha powder
Edible petals/flowers (violas, lilac, blueberry, carnation, nasturtium, marigold, bachelor button, chive)*
White sugar pearls
Sprinkles
Chocolate dipped pretzels
Edible Gold (if you want to be super fancy)
Make the glaze
Add the powdered sugar to a medium mixing bowl.
Whisk in the milk and extract until smooth.
Divide the glaze between 3 bowls. Leave 1/3 of the glaze white.
Mix in just enough Matcha powder to the second bowl to make a pale green glaze.
Mix in enough Matcha powder to the third bowl to make a darker green glaze.
Cover the pale green and dark green glazes with plastic wrap (pushing against the glaze to keep from crusting over).
Dip and decorate the donuts
Working with one color of glaze at a time (white first) dip 4 of the donuts into the glaze and rest on a drying rack.
Working while the glaze is still wet, decorate each donut with the flowers*, sprinkles, chocolate dipped pretzels and edible gold.
Repeat the process with the remaining two colors of glaze.
Notes
*Go sparingly on the edible flowers...a little flower petal goes a long way!
Flour Me With Love http://flourmewithlove.com/