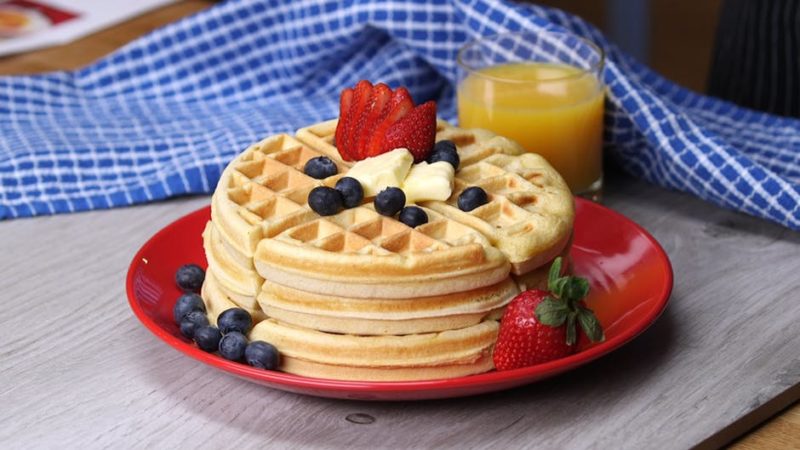 Waffles are a big hit in our house whether we have them on the weekends or grab one going out the door to school. The crispy outside and tender inside make them the perfect breakfast. I've tried many waffle recipes over the years, but I feel the addition of buttermilk gives them an added touch of deliciousness. You can even flavor these with cinnamon, pumpkin pie spice or cocoa. This waffle recipe is very versatile and they freeze well too; just make sure they are completely cooled. Then during the week, all you have to do is pull them from the freezer, heat them up, and enjoy!
Buttermilk Waffles
2017-09-21 11:38:47
Ingredients
2 1/4 C all-purpose flour
1 tsp. baking soda
1 tsp. baking powder
dash of salt
1/4 C butter
1 Tbsp. vanilla extract
1/2 C sugar
3 egg yolks
2 C buttermilk
3 egg whites
Instructions
In a bowl, sift together flour, baking soda, baking powder and salt; set aside.
In a large bowl, cream butter,vanilla, & sugar until light and fluffy.
Beat in egg yolks.
Blend in flour mixture alternating with the buttermilk; set aside.
Beat egg whites until stiff peaks form.
Fold half of the whites into the batter; carefully fold in the other half.
Heat waffle iron; spray with non-stick cooking spray.
Spoon the batter onto preheated waffle iron.
Cook until golden and crisp.
Serve and enjoy!
Flour Me With Love http://flourmewithlove.com/