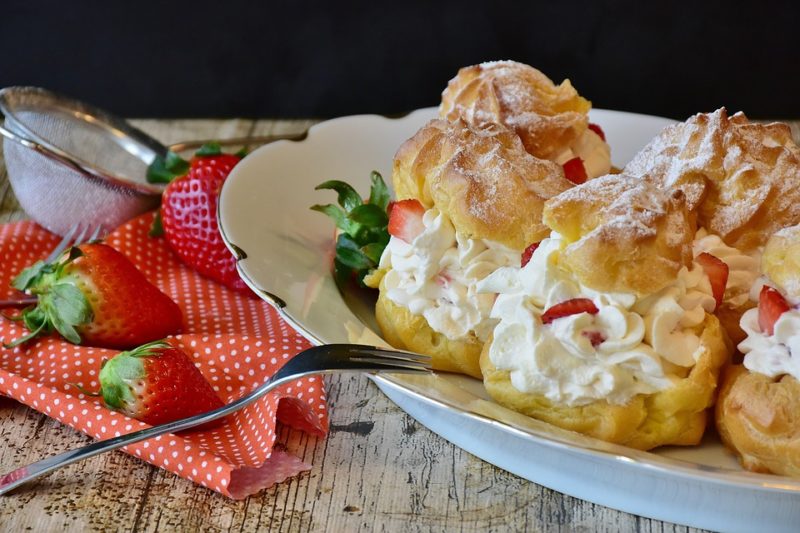 We had a party to attend so I decided to make cream puffs being that they're pretty and delicious. I made a strawberry and cream filling since it's summer, and strawberries are everywhere. For the dough, I added a hint of vanilla, and the filling was sweetened cream cheese, cream and fresh strawberries were folded in. Cream puffs are elegant, and being that I made them small, guests could pop one in their mouth and enjoy. If you're looking for an easy, and delicious dessert for your next gathering, make sure you try these cream puffs or I have a recipe for chocolate cream puffs too!
Vanilla Cream Puffs with Sweetened Cream Cheese & Strawberries
2017-07-21 15:26:12
dough
1 C water
1/2 C butter
1/3 C sugar
1 1/4 C flour
4 eggs
1 tsp. vanilla
filling
12 oz. cream cheese, softened
1 1/2 C powdered sugar
3/4 C heavy whipping cream
1 C diced strawberries
Instructions
Preheat oven to 400 degrees.
dough
Bring water, butter & sugar to a boil, reduce heat; stir in flour.
Stir until it sticks together and pulls away from the sides.
Remove from heat; stir in vanilla and eggs (one at a time) mixing well after each addition.
Continue to stir until you have a creamy consistency.
Place 12 mounds of dough onto an ungreased cookie sheet.
Bake for 10 minutes; reduce temperature to 350 degrees and bake an additional 15-20 minutes.
Remove from oven, pierce each one with a toothpick and cool on a wire rack.
filling
Cream together the cream cheese and powdered sugar.
Slowly mix in the heavy whipping cream and whip until it's nice and fluffy.
Fold in the strawberries.
Slice a cream puff open and fill with strawberry cream.
Place on the top and sprinkle with powdered sugar if desired.
Enjoy!
Flour Me With Love http://flourmewithlove.com/