Apple pie is a favorite of my husbands, and while it's not my favorite, I do like apple desserts.  So to please both of us, I tried these squares, and I must say, they are divine.  The crust is nice and flaky and the filling doesn't get runny like some pies do because there is a special ingredient…corn flake crumbs!  Trust me, it's awesome, and you won't even know it's in there.  If you asked anyone in our family, they would agree that these squares taste like a pie, but are much better!  You're not going to LIKE this recipe…you're going to LOVE  it!  These are perfect for picnics this summer.
Ingredients
Dough:

5 cups all purpose flour
1 tsp. salt
2 cups shortening
4 eggs, separated
1 cup milk
2 cups crushed cornflakes
Filling:

6 Granny Smith apples
1 cup sugar
1 1/2 tsp cinnamon
Icing:

1 1/4 cups confectioners sugar
1/2 tsp vanilla
3 tablespoons water
Instructions
Preheat the oven to 350°F.
Combine the flour and salt in a large bowl and cut in the shortening. In a small bowl, beat the egg yolks and milk. Reserve the egg whites for later. Add the egg mixture to the flour mixure. Mix the dough until combined, form into a ball, and cut in half. Refrigerate for an hour or so.
In the meantime, crush your cornflakes into very fine pieces. Roll out the dough and place it on a 15 x10 sheet pan. Sprinkle all of the corn flake crumbs over the dough evenly.
Peel and slice the apples. Toss them with the sugar and cinnamon. Place the apples in a flat layer on top of cornflake crumbs.
Roll out the remaining dough, place on top of the apples layer, cut some slits to let the steam escape and seal the edges (tuck the top crust under the bottom if you need to). Beat the egg whites until foamy and brush all over the top of the crust.
Bake at 350 for 1 hour, until the crust is golden. Cool slightly.
Combine the icing ingredients in a small bowl. Drizzle the icing evenly over the crust. Cool completely before cutting into squares.
http://flourmewithlove.com/2017/06/apple-pie-bars.html
If you like this recipe, make sure you try my Raisin filled Cookie Bars too!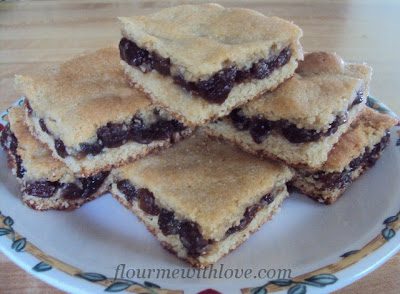 Before you take a bite, snap a photo and tag #flourmewithlove so I can see and share with my readers!