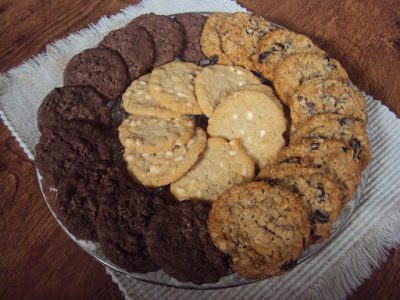 The holiday season is among us which means it's time to bake! I could spend hours in the kitchen baking cookies, however having the right tools makes baking a breeze. I decided to show you a few things that I use so your holiday season will be a success!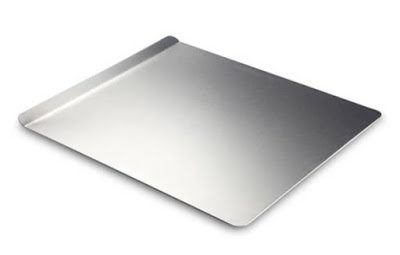 T-fal AirBake "Burn-Proof" Cookie Sheets
The secret to perfectly baked cookies? It's all in the pan!
T-fal's AirBake Cookie Sheets are the "The Original Insulated Bakeware" and uses a clever double-layer
technology to provide an overall enhanced baking performance …
meaning better browning, no burning, and decreased bake times!
AirBake's
unique Micro-Dome technology distributes pockets of air that provide
even heating of the baking surface, thus decreasing bake times by up to
15% over traditional insulated bakeware.
Since
its invention in the 1960s, the AirBake brand has continued to provide a
100% natural aluminum product that is guaranteed not to rust.

Time to decorate!
The T-fal Ingenio Spreader Spatula is the perfect tool for icing and decorating your fresh batch of cookies.
Contoured edge for perfect scraping and rigid straight edge for seamless spreading
Dishwasher safe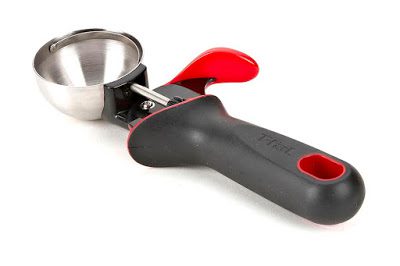 Having trouble creating consistent sized cookies?
The T-fal Comfort Trigger Ice Cream Scoop easily scoops up the right amount of cookie dough each time.
The trigger effortless releases the dough and keeps your hands from getting messy

Don't worry about sticky doughs!

Each rolling pin is made from tough, rust-resistant stainless steel.
The rolling pin features comfortable, easy grip handles for added comfort and control.
The pin boasts rust-proof Nylon bearings for a smooth rolling action.
This rolling pin is an essential tool for any kitchen.
This product should be hand-washed with a damp cloth for best results

Soft handles fit comfortably in hand
Nonslip bottoms stabilize bowls while mixing
Wide lips and spouts make it easier to pour ingredients
Dishwasher safe
5-quart size has wider mouth, ideal for mixing batters

3-piece set of flexible silicone spatulas in blue
Includes small- and medium-sized spatulas plus large-sized spoon-style spatula
Translucent blue-tinted, crystal-like plastic handles with holes for hanging
Heat-resistant up to 500 degrees F
Stain and odor resistant; dishwasher safe





These products contain affiliate links, meaning if you purchase via a link, I will make a commission which supports this site…thank you!