Finding the perfect Father's Day Gifts is as easy as…steak!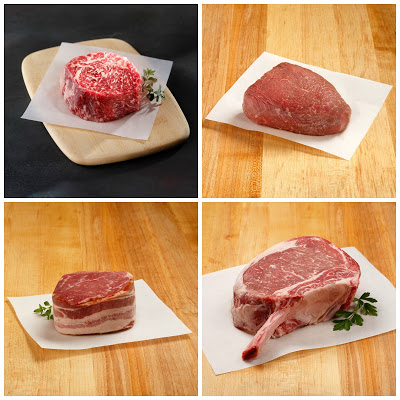 Today I have a very special post for you, and I'm so excited to be bringing you something different. Father's Day is right around the corner and I'm sure many of you are still undecided as what to buy. Don't fret, Snake River Farms and Double R Ranch are offering scrumptious gift boxes that are filled with steak and other goodies too. Steak is the perfect
Father's Day Gift
this year!
My dad, and my husband love steak! I can remember when I first started dating my husband…he came over for dinner one night and my dad had made the steak medium-rare which my husband never ate before. He normally ate his steak well done and almost fainted when he saw how red the inside was when my dad cut into the steak. My dad convinced him to try it, and that was it…from then on my husband only ate his steak medium-rare and he does to this day!
I'm always looking for a good quality and delicious steak which we all know Kobe beef is. Snake River Farms and Double R Ranch are launching a collection of bundles designed especially for dads, with options for every budget and appetite.
As you can see, they come in a beautiful gift box and once you open it, it's filled with the steaks and seasoning. The steaks are all individually shrink wrapped so you can make as many or as little as you'd like! We got the "Dad's Perfect Gift" which includes: 2 Bacon wrapped fillet mignons, 2 American Kobe Ribeye Filets, 1 Prime Bone-in Ribeye, 2 NW Beef Sirloins, and 1 Espresso Bravo Sea Salt all placed in a gift box.
This is a sponsored conversation written by me on behalf of Snake River Farms/Double R Ranch. The opinions and text are all mine.
var ts=document.getElementById('ti-pixel-tracker'); var ti=document.createElement("img"); ti.style.display="none"; ti.src="https://tracking.tapinfluence.com/trk/L6AL1/KKqSE/p.png?p=vbgRi" + String.fromCharCode(38) + "i=Iqy25" + String.fromCharCode(38) + "s=" + encodeURIComponent(document.referrer); ts.parentNode.replaceChild(ti,ts); new TAP.CogFrame('/v1/cogs/9745f954-ff08-11e4-9746-22000af93a2d/comments').drop({"program_id":"97420e20-ff08-11e4-9746-22000af93a2d","post_id":"f3801190-0017-11e5-b5f9-22000afd2dc7″,"host":"api.tapinfluence.com","apiHost":"api.tapinfluence.com","sort_order":"desc","limit":"20″,"offset":"0″,"sort_by":"created_at","protocol":"https://"});