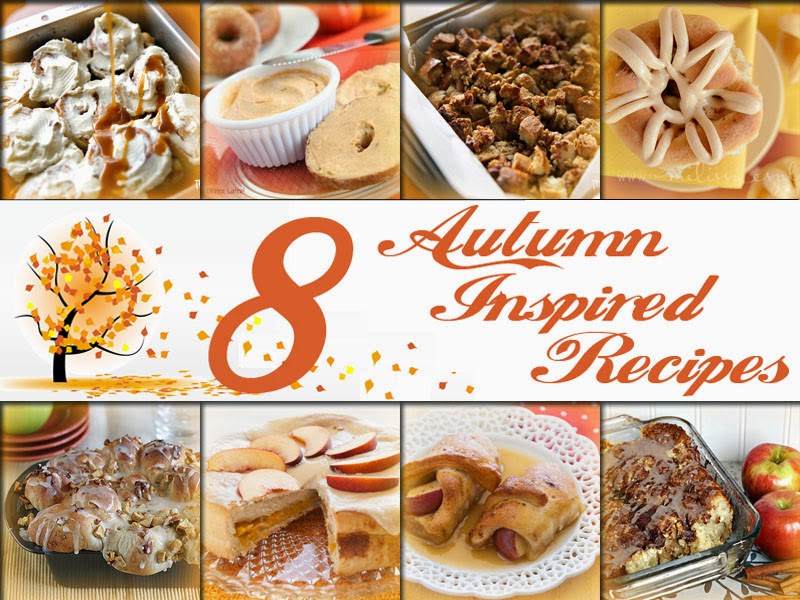 Recipes and photos courtesy of Rhodes Bread
Now that the kids are back in school and the temperatures are cooling down, we can all do some baking! Fall is my favorite time of year and I usually bake a lot. Here are
8 Autumn-Inspired Recipes
that will have your house smelling divine. There's nothing quite like the aroma of fresh baked bread wafting through the house on a cool fall afternoon. All the recipes include the flavors and aromas inspired by the fall harvest…
I hope you enjoy!
The all-time favorite cinnamon roll with the addition of apples and a sticky caramel drizzle.
The secret? Pumpkin Spice Jello! Never knew it existed? Neither did we!
Bread pudding is the ultimate in comfort food.
Try this crunchy version and you'll be asked to make it again! Guaranteed!
Aren't these just the cutest? This treat includes a home-made recipe for salted caramel!
Bottom row from left to right:
Apples, cinnamon and pecans – oh my! All stuffed in this bread loaf? Divine!
You can used canned peaches for this recipe, but fresh ones put this pretty, round bread over the top!
Baking apples, such as Braeburn, Granny Smith or Rome work best for this down home dessert!
This is one of those throw together and bake recipes. What could be easier?