There is nothing like waking up to warm, freshly baked cinnamon rolls with icing. This recipe is unique because I decided to fill the center with raisins. It's a lot like raisin bread that's topped off with lots of icing!
 
Ingredients are as follows:
3/4 C milk
1/2 C warm water
1 package active dry yeast
2 eggs
1/2 C brown sugar
1/2 tsp. salt
1/4 C softened butter
1/2 C raisins
4 C flour
2 Tbsp. butter, softened
1/4 C sugar
2 tsp. cinnamon
1/2 C raisins
Directions:
Preheat oven to 350 degrees
First you'll need to scald the milk. To do so, heat the milk over medium heat until bubbles start to form (do not let boil). Once scalded, remove from heat; set aside to cool until lukewarm.
In a bowl combine warm water and yeast. Let this sit until frothy.
In a separate mixing bowl, mix eggs, brown sugar, butter, salt and raisins together.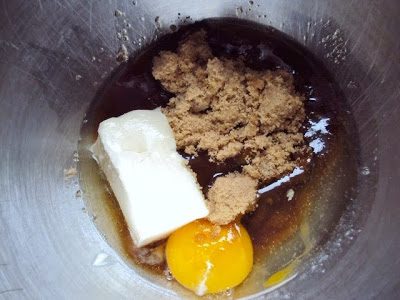 Add yeast mixture and stir until combined. Slowly add lukewarm milk, stir again.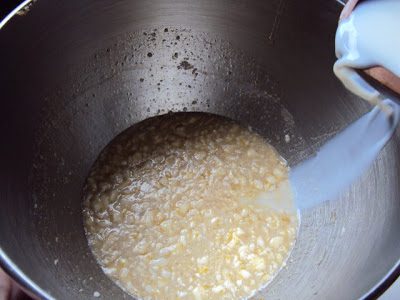 Start adding the flour slowly until a stiff dough forms.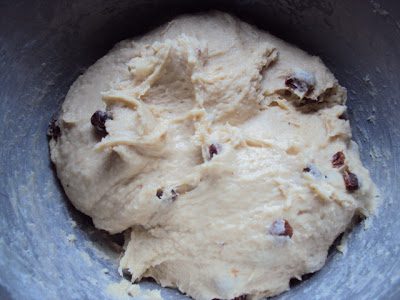 Let dough rise until doubled in size.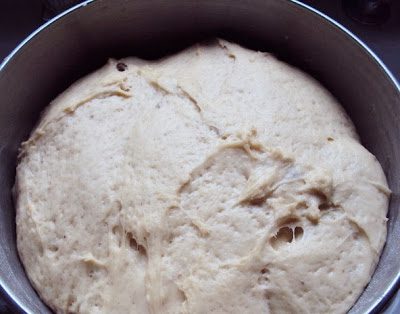 On a lightly floured surface, roll out dough into a rectangle, spread on butter then sprinkle with sugar and cinnamon. At the top of the dough, make a line of raisins.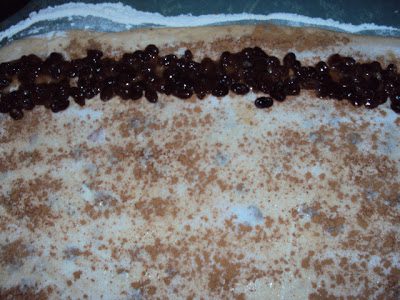 Start with the top of the dough and roll towards you until the dough is tightly rolled.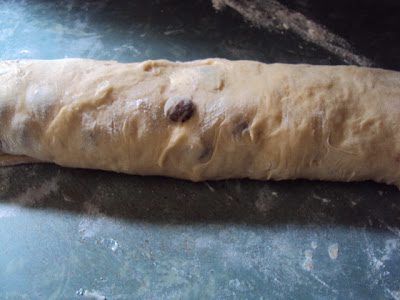 Slice the dough into twelve pieces, place in a lightly greased 13 x 9 inch pan and allow to rise until they reach the top of the pan.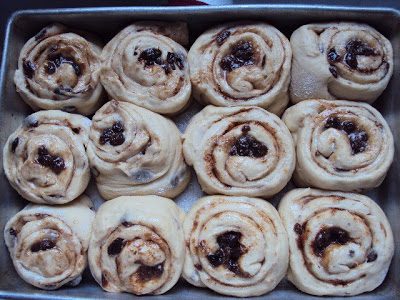 Bake in preheated oven for 30-35 minutes, or until golden brown.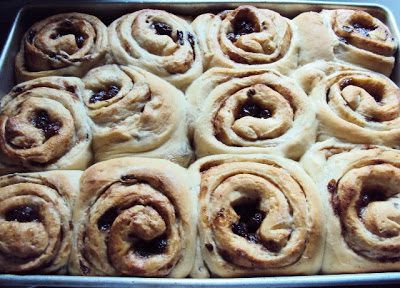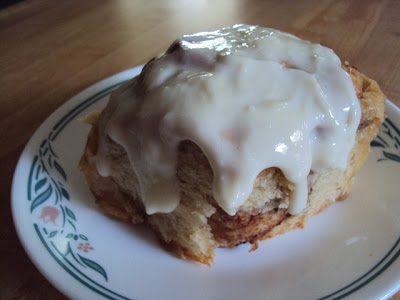 Take a bit and enjoy!